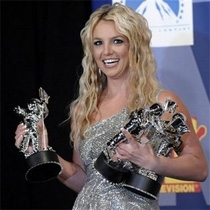 Kėngėtarja Britney Spears, megjithėse ka arritur herėt nė ceremoninė e mbrėmshme nė MTV Video Music Awards, ka arritur edhe tė fitojė tre shpėrblime: videon femėr, videon pop dhe videon e vitit, pėr "Piece of Me".
Spears u pėrqesh nė VMA tė vitit tė kaluar, pas performancės sė "lodhur" tė kėngės "Gimme More", por kėngėtarja pėrmirėsoi gjithēka kėsaj here, gjatė njė nate tė madhe pėr tė.
"Uou. Jam nė shok tash. Nuk i kam pritur kėto", ka thėnė Spears pasi qė kishte fituar ēmimin e videos sė vitit, qė ėshtė edhe shpėrblimi mė i madh i mbrėmjes.
Chris Brown fitoi shpėrblimin pėr videon mė tė mirė tė artistit mashkull, pėr "With You", vajzat Pusstcat Dolls fituan pėr vallėzimin mė tė mirė nė video, me "When I Grow Up", derisa djelmoshat Linkin Park triumfuan pėr videon mė tė mirė rok, me "Shadow of the Day". Nė mesin fituesve ishin edhe Lil Wayne dhe Tokio Hotel.
Pamje nga mbėmja Video Music Awards