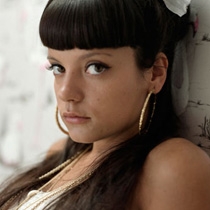 Ylli britanik i muzikės pop, Lily Allen, i ka akuzuar gazetarėt se i kanė vendosur cak asaj dhe po mundohen ta nxjerrin sa mė keq.
Gjatė ceremonisė "GQ Men of the Year Awards" nė Londėr, kėngėtarja e hitit "Smile" ishte paraqitur e dehur nė skenė bashkė me Sir Elton John, ndėrsa ky i fundit ishte tallur me tė.
Megjithatė Allen pohon se krejt ēka kishte ndodhur kishte qenė njė organizim miqėsor dhe se ishte keqinterpretuar nga media.
"Jam ndier vėrtet e ndjekur kėtė javė. Ėshtė e dhimbshme, mirėpo nėse ju dėshironi tė publikoni njė foto timen dhe tė tregoni sa keq dukem, sa e trashė jam bėrė ose sa keq jam veshur, atėherė ėshtė nė rregull nuk shqetėsohem", ka thėnė kėngėtarja.