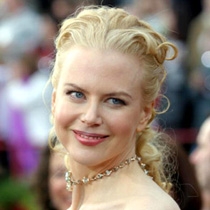 Aktorja hollivudiane, Nicole Kidman, ėshtė ylli mė i paguar nė Hollywood. Kidman ka kryesuar listėn e pėrpiluar nga revista "Forbes" pėr aktorėt mė tė paguar.
Ylli i filmit "Hours" e ka zėnė vendin e bashkėvendasit tė tij Russell Crowe, i cili kėtė vit ėshtė nė pozitėn e tetėmbėdhjetė.
E dyta nė listėn e mė tė paguarve ėshtė renditur Jennifer Garner, filmat e tė cilės, "The Kingdom" dhe "Catch and Release", kanė pasur sukses tė madh ne fitimin e parave.
Vendi i tretė i ka takuar ish-burrit tė Kidman, Tom Cruise, ndėrsa pas tij renditen Cameron Diaz, Jim Carrey, Nicolas Cage, Drew Barrymore, Will Ferrell dhe Cate Blanchett.