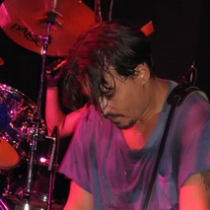 Aktori Johnny Depp, i ėshtė rikthyer hobit tė tij, muzikės, pasi qė ėshtė ribashkuar me bendin "The Kids", pėr tė kėnduar gjatė vikendit.
Depp u ngjit nė skenė duke luajtur nė kitarė dhe duke kėnduar vokalin pėrcjellės tė bendit gjatė koncerteve 90-minutėshe pėr grumbullimin e parave, qė u zhvilluan tė premten dhe tė shtunėn nė Florida.
Aktori 45-vjeēar iu bashkua bendit "The Kids", qė kur ishte student nė Miramar, Florida, duke u zhvendosur nė Los Angeles me ta nė kėrkim tė njė marrėveshje editimi. Por, Depp vendosi tė ndjekė karrierėn si aktor, pas prishjes sė bendit, para se ata tė ribashkohet sėrish vitin a kaluar.