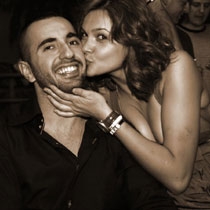 Mėsohet se modelja e njohure kosovare Dhurata Lipovica ėshtė e dashura e re e njėrit ndėr pronarėt mė tė mėdhenj tė klubeve nė Kosovė, Gebo Club.
Kėto spekulime janė pasojė e fotografive tė zbuluara ku paraqitet dyshja sė bashku, ndėrkohė qė dhurata mban nė dorė njė rreth ku shkruan Skirton.

Dhurata ėshtė modelja kosovare e cila ishte zgjedhur nė vitin 2006 pėr ta pėrfaqėsuar Kosovėn nė "Ford Top Model of the World", nė Shtetet e Bashkuara tė Amerikės.
Pėrderisa Skirtoni ėshtė njė biznesmen i njohur kosovar qė menaxhon DJ-tė e huaj qė vizitojnė "Gebo Club".